Maalfrid Gausel's Dolls clothes knitting patterns:
Doll summer dress
in new colors

Dolls clothes knitting patterns: Model 0100D MIRA - Dress, Pants, Jacket, Small shoes/Socks and Hairband
This patterns fits 17" - 18" dolls like American Girl doll, Baby born and Alexander doll.
Summer, sun and new colors for some doll clothes! I had some turquoise/green here at home and thought that could be nice for a new summer dress mixed with a blue color. I decided to knit ...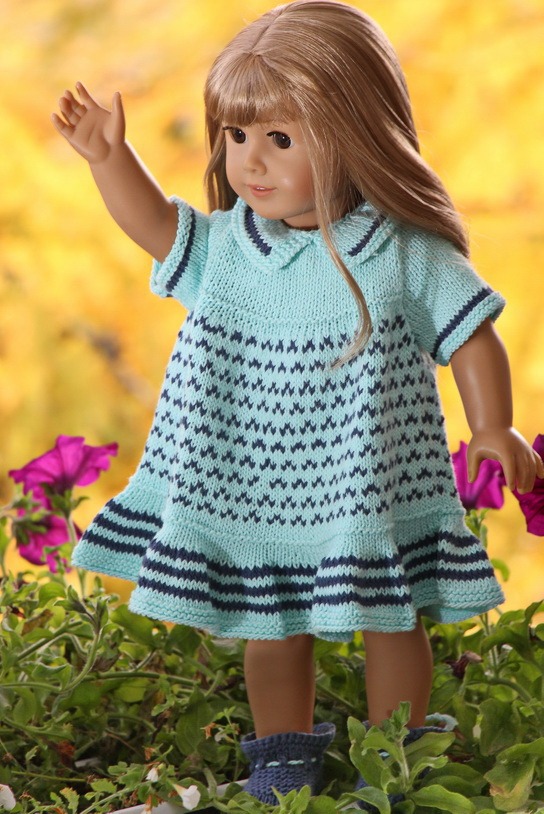 ... a dress with a wide edge knitted in stripes.  The dress has got a cute  little pattern in blue.  It is short sleeved and has a nice collar.  I think my doll Mira is very pretty in this dress.  And so I thought My little Mira needed some accessories to go with the dress.  I therefore knitted a little green  pants in garter stich and...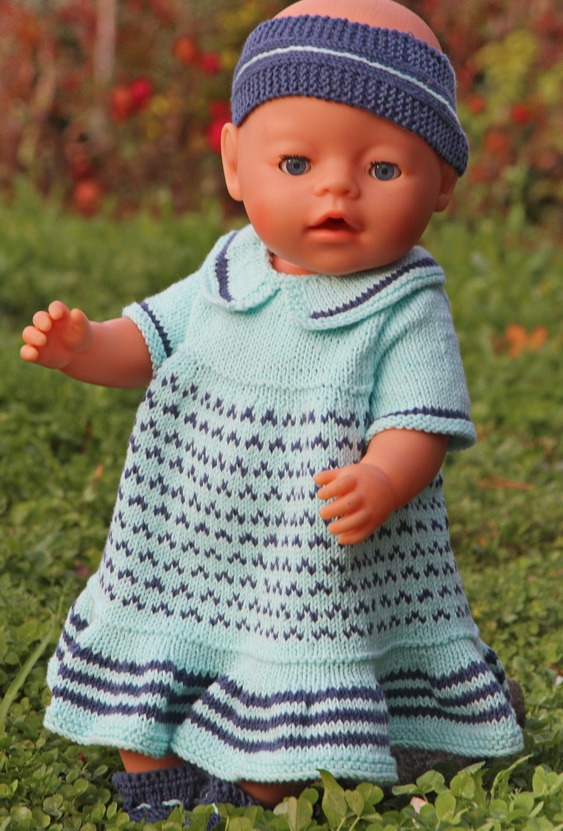 crocheted nice edges round the legs. Then I knitted a hairband.  I knitted the hairband in green and sewed sts along the center of it in blue.  (See picture)  Nice to go with the dress I think?  At last I knitted some small shoes/socks in blue.  I made a row of eyelets round the legs  and sewed the seam back tog up to the eyelets.
At last I made a chord and pulled through the eyelets.  Then I tied it in a bow back of the shoes/socks.
New clothes to wear for my doll Mira!    She looks very nice now, don't you think so too?
---
Målfrid Gausel's Dolls clothes knitting patterns
0100D MIRA -Dress, Pants, Jacket, Socks and Hairband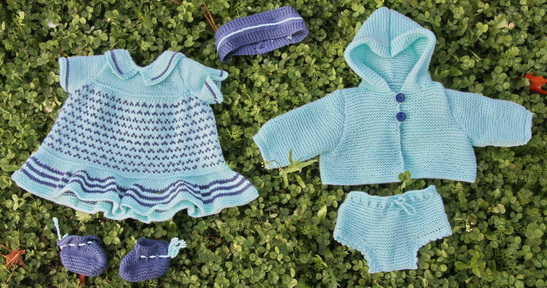 ---
---
0100D MIRA
-Dress, Pants, Jacket, Socks and Hairband
Maalfrid Gausel's Dolls clothes knitting patterns
Fits 17" - 18" dolls like American Girl doll, Baby born and Alexander doll.  (Click on the picture to view pictures in the Photo Gallery) Price: $8.05








---
---