Beautiful doll dress knitting pattern with flowers
Model 0099D OTHELIA -Dress, Pants, Socks, Hairband and Headscarf
This patterns fits 17" - 18" dolls like American Girl doll, Baby born and Alexander doll.
Doll dress knitting pattern.
This time I knitted these clothes for my doll under my stay in France this summer.  I had some yarn in my suitcase as always, and meeting with beautiful France with its flower fragrance and herb woods I easily got ideas for something to knit. A dress with flowers was my first thought. And that's why these  ...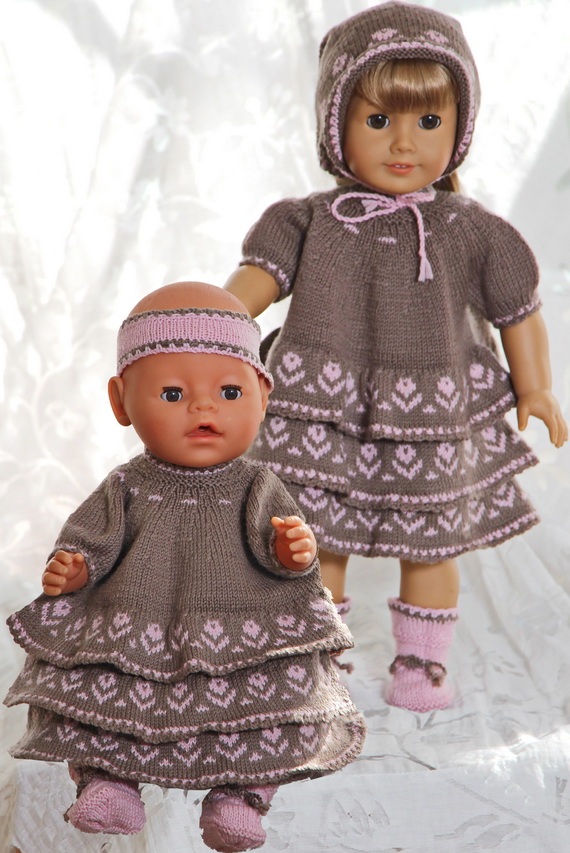 ... clothes started to be knitted.  Although all the blue lavender in France the flowers on this dress is knitted in pink as pink was the color yarn I had brought along. And it was very nice together with the dark beige color I also had. 

The dress became wide and lovely with its flower ruffles. Summer and sun made me knit this dress with short sleeves that fitted the doll well.  As the days were sunny I thought the doll would need a headscarf. 

Also this I knitted with flowers, and then I crocheted a little edge around it.  Pants and socks I knitted as accessories.
I do hope you will like to knit these clothes.  They are easy to knit and I think the clothes lookS very nice dressed on your doll. 
---
Beautiful doll dress knitting pattern with flowers
0099D OTHELIA - Dress, Pants, Socks, Hairband and Headscarf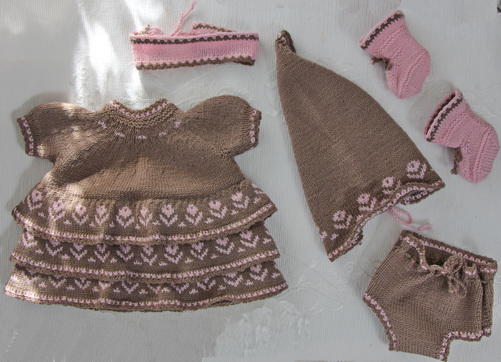 ---
Beautiful doll dress knitting pattern with flowers
---
---
| | | |
| --- | --- | --- |
| 0099D OTHELIA Dress, Pants, Socks, Hairband and Headscarf. Fits 17" - 18" dolls like American Girl doll, Baby born and Alexander doll.  (Click on the picture to view pictures in the Photo Gallery) Price: $8.25 | | |