New Christmas Clothes for 
Tomine and Thomas

Model 0007D TOMINE and  TOMAS - For Tomas: Dress, Suit and Socks.  For Tomine: Christmas dress and Shoes
(This pattern fits 17" - 18" dolls like American Girl doll, Baby born and Alexander doll)
(Patterns from my first book)
---
She is sitting here in the kitchen at a Norwegian "Trip Trap" chair, she keeps me company while I am working at this website. Little Chou Chou got happy when she received an early Christmas gift from Målfrid. She obviously feel well dressed and ready for Xmas.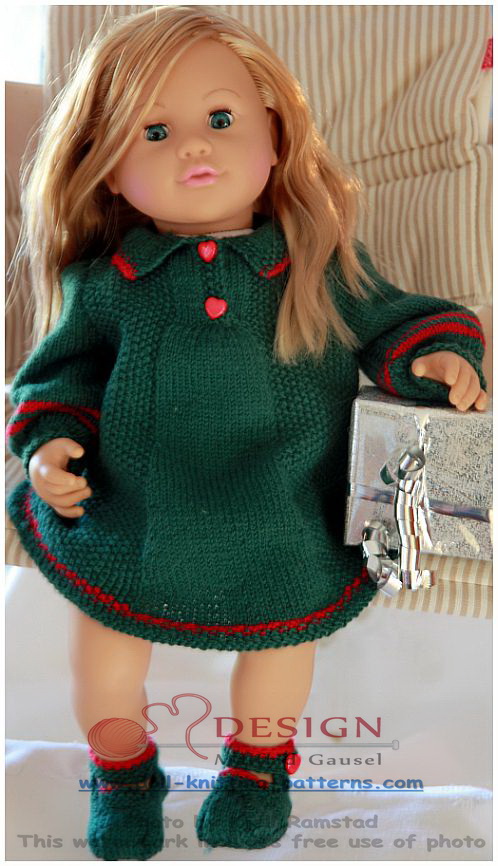 I think your doll, like Chou Chou, would be happy for new Christmas clothes too. May be now is the right time to find you knitting needles to get your doll ready for Xmas too. 
This knitting pattern is one of the popular doll knitting patterns in Målfrid's first book. Now the fourth edition is sold out. As soon as Målfrid and I get the knitting patterns translated, all the patterns in this book will be available at this website. 

All children who own a doll just love new clothes for their doll, especially clothes for Christmas. Knitting is fun, especially cute little doll outfits. Everyone who has a minimum of knitting skill can make it. 
GOOD LUCK! 
Regards Målfrid 
---
---
---
PS. Share lovely things-
I hope you will love this outfit as much as I do and I will appreciate very much to see you sharing this page on Facebook or Twitter. Do you like some of the lovely pictures, click a PinIt button and add them to your Pinterest album.
                                      Regards Målfrid
---
---
---
| | | |
| --- | --- | --- |
| 0007D TOMINE and TOMAS For Tomas: Dress, Suit and Socks  For Tomine: Christmas dress and Shoes (Fits 17" - 18" dolls like American Girl doll, Baby born and Alexander doll.)  Click on the picture to view pictures in the Photo Gallery  $8.25 | | |
---