Easy knitting patterns




Doll knitting - small, easy to knit, and unbelievably fun
Model 0008D SELINE & SNORRE - SELINE: Dress, Pants and Shoes - SNORRE: Long Pants, Blouse, Socks and Bow
(This pattern fits 17" - 18" dolls like American Girl doll, Baby born) 
---
Xmas is coming!..
...and we look forward to Xmas both my dolls and I. My dolls love to get new beautiful clothes for celebrating, and I love knitting the clothes to them.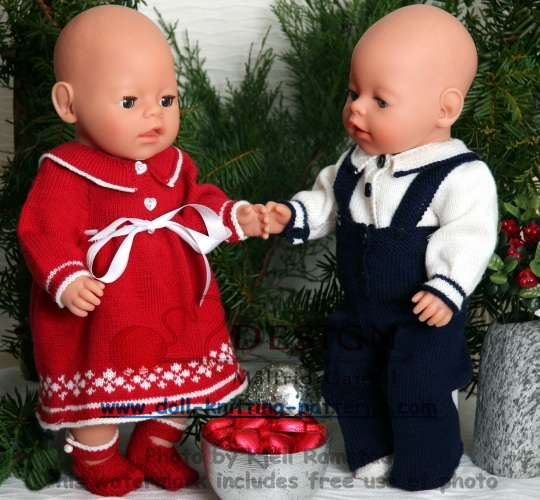 Still there is time to make it. Doll knitting is small, easy, fast and unbelievably fun. And the kids love it. Therefore I have now knitted these clothes in Xmas colors and hope you will like them! 

So, get started as soon as possible! 
By the way, as many of you already know, there is an American Girl Doll named Kirsten. Kirsten Larsson arrives in America in summer of 1854. Everything in the new land is different from the small village she left behind in Sweden. That way she gets her new life started as a settler. 

For decades Kirsten became a hero and good friend to tens of thousands of happy, little American girls. 
Today Kirsten looks great in her new Christmas clothes. Don't you agree? 
I have invited her on a visit to her place of origin. She arrived here a couple of days ago. During 2009 I am going to design a new, special collection to her. We will also follow her on a trip to some places in Scandinavia which is typical to her. Of course, we will take pictures of the clothes with this environment as a background. We look forward to it, and we hope you will like it. 

This Kirsten project was finished December 2009. See all the designs here:
---
---
PS. Share lovely things-
I hope you will love this outfit as much as I do and I will appreciate very much to see you sharing this page on Facebook or Twitter. Do you like some of the lovely pictures, click a PinIt button and add them to your Pinterest album.
                                      Regards Målfrid
---
---
---
| | | |
| --- | --- | --- |
| 0008D SELINE & SNORRE SELINE: Dress, Pants and Shoes - SNORRE: Long Pants, Blouse, Socks and Bow (Fits 17" - 18" dolls like American Girl doll, Baby born and Alexander doll.) Click on the picture to view pictures in the Photo Gallery $8.25 | | |
---