Design doll dress knitting pattern


Elegant and well dressed doll in gray and coral red

Model 0118D VANJA- Suit, Jacket, Hairband, Socks and Hat for American Girl Doll, Hat for Baby born
(This pattern fits 17" - 18" dolls like American Girl doll, Baby born and Alexander doll)
---
For very long I have had this coral red yarn here.  I could not think of for what to use it.  However, one day I found it and started to knit a suit for my doll Vanja.  I am sure you have realized already that I like to knit small plaits for the doll clothes.  This time I knitted ...
---
... plaits along the legs of the suit and as I knitted the legs, I thought that this could be fine. This suit is a little wide back.  In front, I have decreased it at the center and knitted a plait pattern for the center front.  Back it is open along the edge sts and buttoned at the top with a button. Finished knitting the suit I dressed my doll and thought ...
Jeg fant ut at grått var en god farge til å kombinere med. Derfor strikket jeg denne enkle jakken med korall røde kanter og fletter langs ermene. Enkel og grei til å ha utenpå dressen.
... she was lovely.
I thought, why not knit a hairband in this collar using the plait pattern. As thought, so done!  The hairband is bounded together back with the garter stitched edges.  Nice to wear when she not need the hat/cap.
Then Vanja needed some accessories.  I thought grey  ...
 ... was a good color to go with this coral red color.
Therefore, I knitted a grey jacket with coral red edges and plaits along the sleeves to fit the clothes.  The hat is also knitted in grey with coral red edges.  I knitted a band, formed it like  ...
---
I also welcome you to become friend on my new Facebook page. On Facebook, I will show more about the ideas and patterns that come in the future. Målfrid
 ... a bow in, and sewed to the edge back of the hat.  Lovely for "American Doll" However I thought Baby born was cute in a cap with earflaps since she still is a "little baby". 
Socks knitted in grey rib with a coral red edge I also knitted to this garment.
---
A lovely dressed doll in this garment I think!
I hope you to like the clothes and want to knit them for your doll.
---
---
Design doll dress knitting pattern




Elegant and well dressed doll in gray and coral red
0118D VANJA: 

Suit, Jacket, Hairband, Socks and Hat for American Girl Doll, Hat for Baby born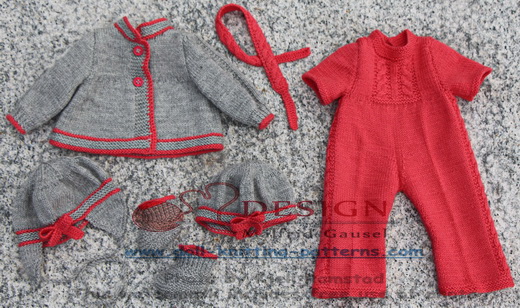 ---
---
0118D VANJA
Suit, Jacket, Hairband, Socks and Hat for American Girl Doll, Hat for Baby born Doll dress knitting pattern (Fits 17" - 18" dolls like American Girl doll, Baby born and Alexander doll.) Click on the picture to view pictures in the Photo Gallery $8,15








---