Målfrid Gausel's dolls dress patterns -




-a blue summer dream for your doll
Model 0114D JANA - Dress, Headscarf, Pants and Shoes
(This pattern fits 17" - 18" dolls like American Girl doll, Baby born and Alexander doll)
---
I looked through my yarn and saw that I had a lot of lovely yarn in cotton at my place so why not use some of it?
I looked at this blue color and decided to knit a beautiful summer dress for my doll Jana in this color.
I picked out a pattern I liked very much and started knitting this dress.  Very soon, I saw that this could be ...
I also welcome you to become friend on my new Facebook page. On Facebook, I will show more about the ideas and patterns that come in the future. Målfrid
... a lovely dress!  After finishing it with crocheted white edges and I had sewed 2 small buttons for the suspenders, I was happy to dress my doll in a lovely new dress. Now my doll Jana had ...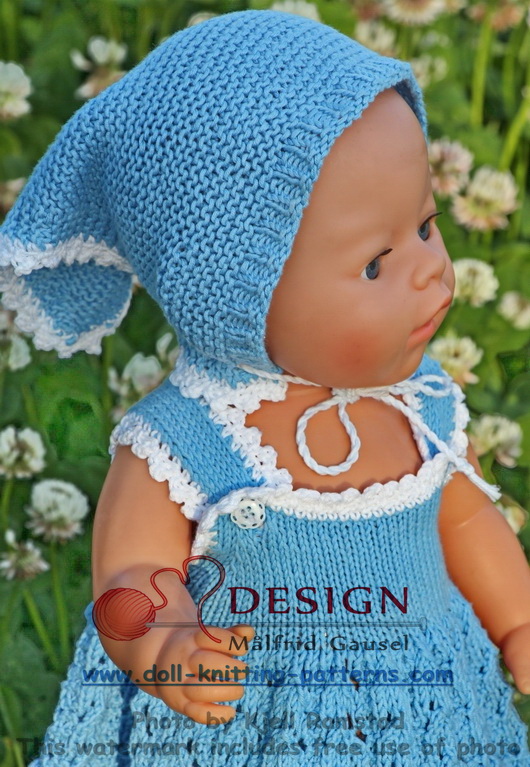 ... a new summer dress blue as the sky and the lovely flowers we have in the garden at this summer time. However, of course! Now she needed a pants.  I knitted the pants in blue and crocheted nice edges round the legs as I did the edges of the dress.
As the sun is very warm summer time, I decided to knit a headscarf for Jana in garter sts.  Lovely to wear when the sun is too hot!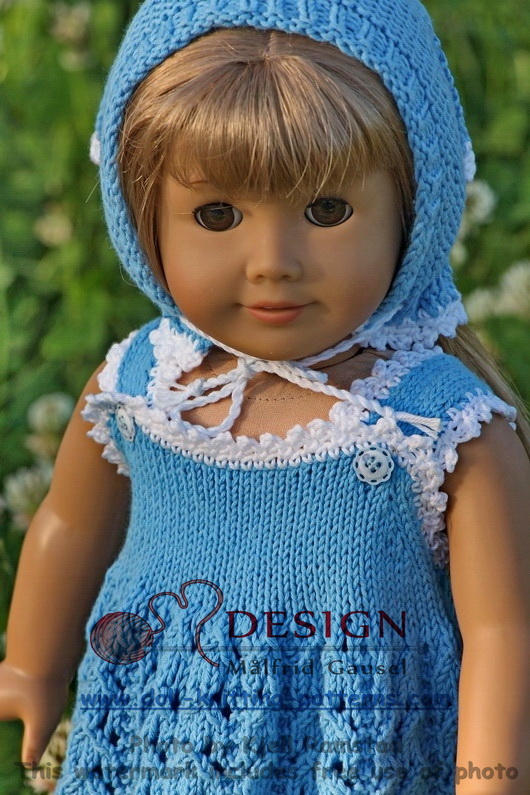 Small, white shoes knitted in garter sts fitted this garment very well.  The shoes have a row around the soles in blue and they are buttoned at the outside to with fine blue buttons.
As my doll Jana was dressed in these summer clothes, I think she was beautiful!
I hope you think so too and want to knit these clothes for your doll,
Good luck!
Regards Målfrid
---
---
PS. Share lovely things-
I hope you will love this outfit as much as I do and I will appreciate very much to see you sharing this page on Facebook or Twitter. Do you like some of the lovely pictures, click a PinIt button and add them to your Pinterest album.
                                      Regards Målfrid
---
Målfrid Gausel's dolls dress patterns -




-a blue summer dream for your doll
0114D JANA - Dress, Headscarf, Pants and Shoes
---
---
---
0114D JANA 
Dress, Socks and Bonnet Målfrid Gausels's dolls dress patterns. (Fits 17" - 18" dolls like American Girl doll, Baby born and Alexander doll.)  Click on the picture to view pictures in the Photo Gallery $7.90 








---