Loveliest Babydoll
summer suit for your doll
Model 0113D OLEANA - Dress, Socks and Bonnet
(This pattern fits 17" - 18" dolls like , Baby born)
---
I also welcome you to become friend on my new Facebook page. On Facebook, I will show more about the ideas and patterns that come in the future. Målfrid
We are looking forward to summertime here now! I thought it was a long time since I knitted some baby clothes for my baby doll Oleana so why not do that?
As I was on my way to spend days in St Raphael in France where I find a lot of inspiration for my knitting in the nature, I decided to knit these clothes in cotton. Thinking of France I always ...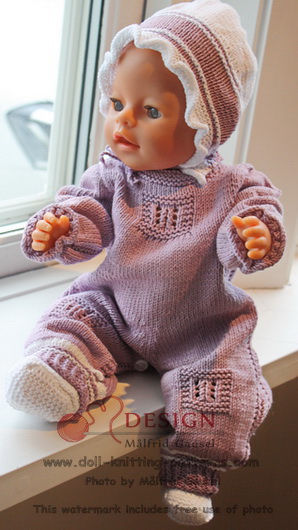 ... think of the loving fields of lavender.  Beautiful lilac color and a lovely fragrance from the plants, so why not knit the suit in a color remaining me of lavender fields?
A baby is always well dressed in a suit I think.  So why not knit a suit for my doll Oleana this time. One lovely morning sitting in the sun on the terrace in Boulouris, I starting knitting these clothes.  I started with the leg of the suit, soon I had created a little pattern during my knitting for this suit, and in a couple of days, I had a beautiful  ...
 ... suit finished for my doll.  Then I knitted small socks as belongings and started to think about how to knit a bonnet to go with these clothes.  After thinking of this for a white I knitted the bonnet in white with lilac stripes and finished knitting it, I was quite satisfied with the result.  Home again I bought small white button for the suit!
Today I find my doll Oleana well dressed in these new knitted clothes.  Lovely I think!
I do hope you to will like to knit these clothes for your doll!
Good luck!
Regards Målfrid
---
---
PS. Share lovely things-
I hope you will love this outfit as much as I do and I will appreciate very much to see you sharing this page on Facebook or Twitter. Do you like some of the lovely pictures, click a PinIt button and add them to your Pinterest album.
                                      Regards Målfrid
---
Loveliest Babydoll
summer suit for your doll
 0113D OLEANA - Dress, Socks and Bonnet
---
---
---
0113D OLEANA

 
Dress, Socks and Bonnet 

Loveliest Babydoll




summer suit for your doll

 

(Fits 17" - 18" dolls like American Girl doll, Baby born and Alexander doll.)  

Click on the picture to view pictures in the Photo Gallery

$7.90 











---