Gorgeous knitting patterns
for baby dolls
Model 0097D HELENA - Cardigan, Romper, Bonnet, and Socks
This pattern fits 17" - 18" dolls like American Girl doll, Baby born and Alexander doll.

These beautiful baby clothes I knitted for my dear doll, Helena long time ago.  I had a lot of nice thin baby wool yarn in a special color, a color that might be difficult to find.  Anyway, these clothes will be genuinely nice in any color you might choose ...

... like white, blue, pink  or other! You can choose what you like best and the clothes will look great!
I liked these doll clothes a lot when they were finished.  The pattern was beautiful for baby knitting and I wanted to share it with all of you knitting my doll clothes. 
The jacket is a little wide around the doll's waist, and I have used raglan decreases for the arms. A cute jacket for my doll Helena I think!

I also knitted a romper with small squares at the front of the pants in this pattern.  They look like pockets and were nice knitted on the doll's romper. 
The socks are knitted without any pattern as the romper has pattern round the legs. 
The bonnet is knitted with an edge knitted in garter stitch and together with this pattern.
To me the doll Helena looks lovely dressed in these new baby clothes.
---
Gorgeous knitting patterns
for baby dolls

Model 0097D HELENA - Cardigan, Romper, Bonnet and Socks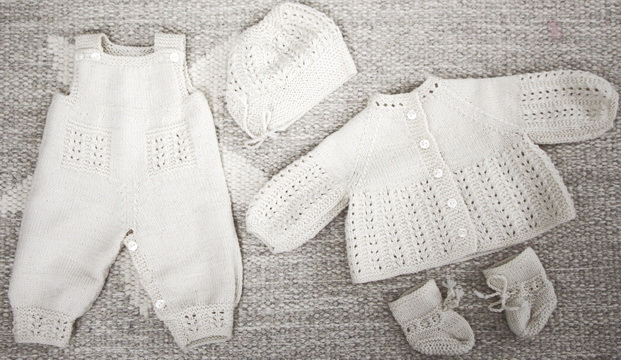 ---
Gorgeous knitting patterns for baby dolls
---
0097D HELENA
 Cardigan, Romper, Bonnet and Socks. 
Gorgeous knitting patterns for baby dolls (Fits 17" - 18" dolls like American Girl doll, Baby born and Alexander doll.)  Click on the picture to view pictures in the Photo Gallery. $8.25








---
---