Lovely Doll Blanket
Knitting Pattern SOFIA
Doll blanket knitting pattern - design 0086D SOFIA
This doll blanket is the same design as baby blanket knitting pattern 0001B SOFIA
Through years many of you have asked if it is possible to upsize these doll clothes to baby sizes.  At last we have come so far now that we will like to try this!
I have knitted some baby socks and a baby blanket in this soft merino woll yarn for babies. You can of course always use cotton yarn instead if you like!
After knitting the blanket and the socks for baby I thought," Why not knit it to fit dolls as well?"  I know that a lot of small girls would love to get clothes for their dolls similar to the clothes mummy has made for ... 
... her little brother or sister!
That's why I have knitted this blanket to fit her baby doll.  The blanket is knitted in the same lovely soft wool yarn mummy has used for the cute little baby. The blanket has ...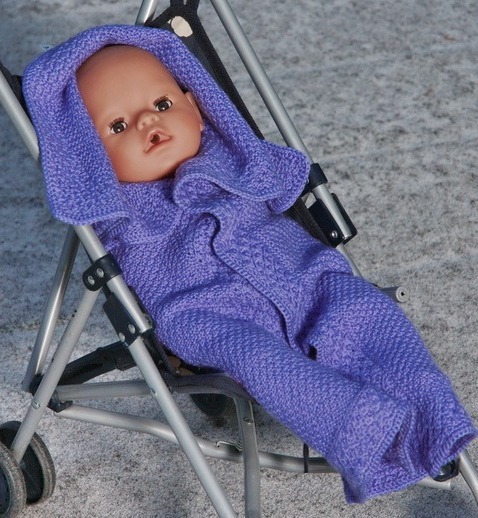 ... a beautiful border knitted in waffle seam.  Inside the border the blanket is knitted in  garter stitch with moss stitch inside. A beautiful blanket I think? 
Should you like to knit the blanket larger just cast on more sts and knit the moss sts field larger.  You must only take care that your sts is devisable with 4 + 3 extra to make the waffle seas.
I hope you will enjoy knitting this lovely blanket for your doll
Good luck!                       
Regards  Målfrid
<
Design 0086D SOFIA
Lovely Doll Blanket Knitting Pattern SOFIA

18" This doll knitting pattern for American Girl, Baby Born, Madame Alexander and other 18" dolls
Click on the image to see more images of Design 0086D SOFIA in the photo Gallery)

Knitting patterns for dolls clothes - design 0086D SOFIA - Lovely blanket knitting pattern SOFIA

US $7.25





Lovely doll blanket knitting pattern SOFIA