Maalfrid's Baby born doll knitting patterns
Lovely Flower Doll Dress for Everyone who Love
to Knit Doll Clothes
Amina, in a gorgeous flower dress, dressed for the party
Baby born doll knitting patterns - design 0082D AMINA - Flower Dress, Pants, Shoes and Hat
This time I choose to knit a blue dress with lovely yellow flowers on the skirt. The Leafs are green, and I liked these colors very well together. The yellow Flowers lighten up the dress. Flowers are a motive most little girls will love.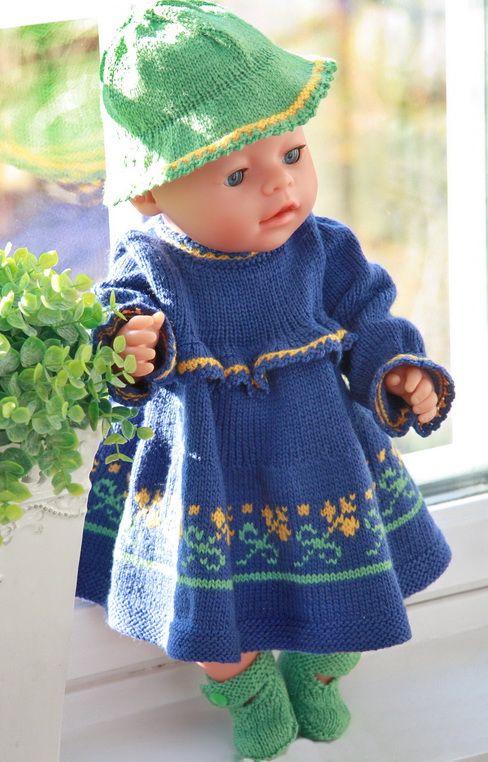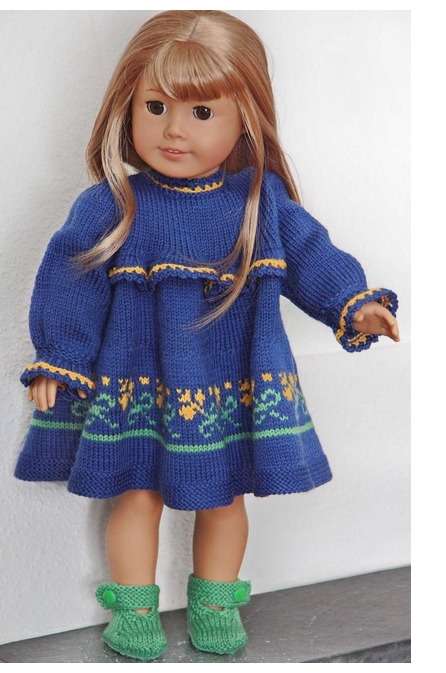 I have also used the green color for the hat and for the shoes. After the yellow cast off along the ridge front and back of the dress I have crocheted edges in blue to remain about "laces".

On the arms I casted on in yellow and here I crocheted "laces" in blue. For the hat I made the same "lace" edge in green. The shoes have ankle straps and a little button at each side for the strap.

Design 0082D AMINA fits to American Girl doll as well.

Finished with these clothes Amina is well dressed for any occasion.

Regards Målfrid
---
   0082D Amina in a gorgeous flower dress,
dressed for the party!
     

0082D AMINA
Baby born doll knitting patterns         

Also fit other 17"-18" dolls like Baby born.
(Click on the image and view more and bigger images)

D0082D AMINA - Flower Dress, Pants, Shoes and Hat


Add knitting pattern 0082D AMINA to Cart
US $7.95