Knit doll clothes




...enjoy this abundant




doll knitting pattern
Amazing doll clothes that fit most occasions

Model 0081D TRUDE- Jacket, Pants, Skirt, Tunic, Beret, and Socks
This time my doll Trude has some new doll clothes.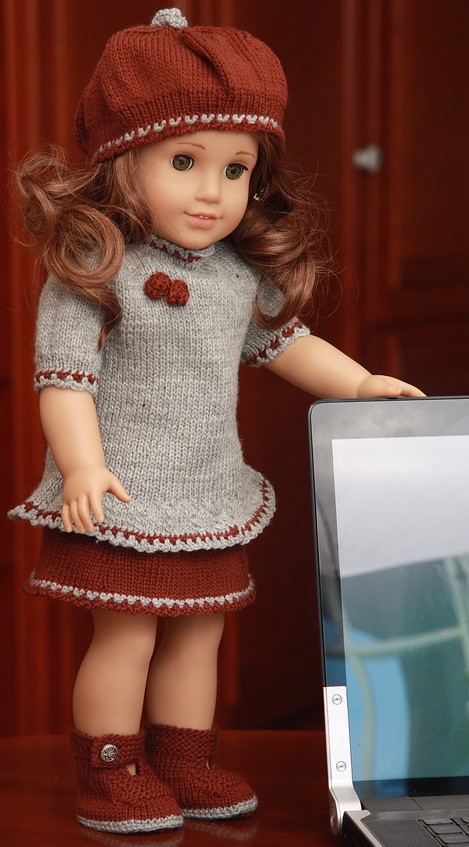 have knitted a lovely jacket with a hood. This jacket has small plaits (sts knitted TBL) as a pattern. I have also knitted pants with the same pattern. I liked this little pattern very well for these clothes.

I tillegg har jeg strikket en grå tunika som jeg har pyntet med hekla kanter og 2 små brune knopper som pynt. (Se bilde). Kantene kan minne litt om blondekanter. Et brunt skjørt med fargene motsatt ble også ganske flott som tilbehør spesielt til American Girl dukken som jo "litt eldre" enn lille Baby born.

Anyway it will fit Baby Born as well if you like. A nice beret and beautiful shoes with ankle band around the legs give you a perfect set of clothes for your doll.

Regards Maalfrid
   Design 0081D TRUDE
Innholdsrik dukkestrikk oppskrift
Flotte dukkeklær som passer til de fleste anledninger      

0081D TRUDE
Knit doll clothes ... enjoy this rich doll knitting pattern         

Doll knitting pattern for
17"-18" dolls, like Baby born, Chou Chou, Molly P and American Girl Doll.
(Click on the picture and view more pictures)

Model 0081D TRUDE - Jacket, Pants, Skirt, Tunic, Beret and Socks

US $8.05






---