Knitting pattern for your doll
in 2 lilac colors
These clothes were also knitted to my dear doll 

on my Holiday Trip.
Knitting on my holiday is nice and relaxing and here is the result:
Model 0079D LISSY - SKIRT, SWEATER, PANT, HAT and SOCKS
I always enjoy looking through the yarn I have at home and find yarn to go together. This time I decided to knit the doll clothes in lilac colors.
I had 2 lilac colors at my home and thought they fit each other well.
First of all I knitted the skirt. I designed small flowers for the skirt and thought it was nice when it was finished knitted. Most girls love flowers! Then I thought that I should knit a sweater to go with the skirt. I knitted it in dark lilac with a border of light lilac flowers along the edge. I liked this sweater to wear to the skirt.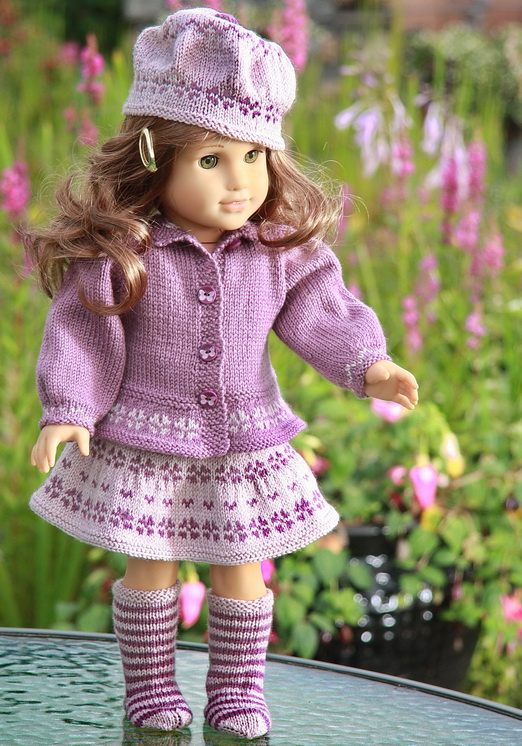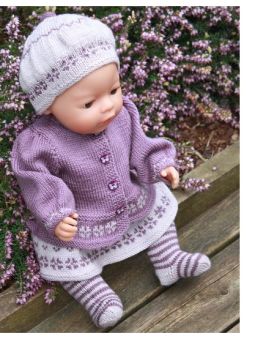 When I had made up these clothes I was lucky to find beautiful small buttons in light and dark lilac with a butterfly motive which fit this outfit very well. After that I knitted a hat with flowers round the edge. .

I also crocheted a row of dc (sc) which I rolled to a little bud and sewed it to the top of the hat. Knitting a pair of socks in stripes the doll should be completely dressed!

Baby born is very nice in these lovely clothes!

I hope you will like to knit these clothes for you doll too.
Good luck!
Regards Maålfrid
---
   Design 0079D LISSY
Knitting pattern to your doll in 2 lilac colors      

0079D LISSY
Knitting pattern to your doll in 2 lilac colors         

Doll knitting pattern for
17"-18" dolls, like Baby born, Chou Chou, Molly P and American Girl Doll.
(Click on the picture and view more pictures)

Model 0079D LISSY - SKIRT, SWEATER, PANT, HAT and SOCKS

US $7.85




Add to Cart


View Cart