Gorgeous knitting patterns
for 18 inch dolls ...
in summery peach and beige
Knitting pattern for 18 inch dolls - Model 0078D YLVA - Sweater, Cap, Pant and Socks
As I had a lot of yarn here as I was ready for a travel to Montenegro I had to get ready some knitting to bring along. I always like to have knitting for travelling.
This time I choose some yarn in peach color and beige. I used a little green to go with it.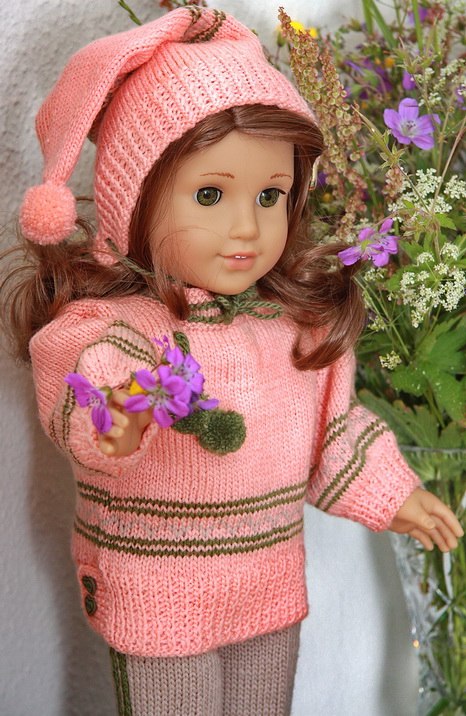 I knitted the clothes on my trip and coming back home I thought the doll clothes fitted my doll very well. At home I finished it with tassels and buttons. I also knitted some small bows in peach and sewed them to the back of the socks. I knitted them in peach to get a little color from the sweater and the cap to go with the socks.
The clothes are warm and lovely and will fit your doll well out on little trips
What do you think? I hope you too will enjoy these clothes and that you want to knit them for your doll especially!
Good luck!
Regards
Målfrid
0078D YLVA
Gorgeous knitting patterns for 18 inch dolls
in summery peach and beige         

Doll knitting pattern for
17"-18" dolls, like Baby born, Chou Chou, Molly P
and American Girl Doll.
(Click on the picture and view more pictures)

Model 0078D YLVA - Sweater, Cap,
Pant and Socks

US $7.95




Add to Cart


View Cart