Wild Cherry Blossom in Spring ...
Tiril is The Loveliest Little Spring Flower
Among Them All
TIRIL, just another Maalfrid Gausel lovely knitting patterns for dolls.
Model 0075D TIRIL - DRESS, PANT, HAIRBAND AND SOCKS.
Here I have knitted a lovely dress to my dear doll, Tiril. This dress is knitted in a beautiful pink color. I know that a lot of little girls love this pink color. The dress has a nice pattern round the skirt. It is knitted in white and suits the pink dress very well.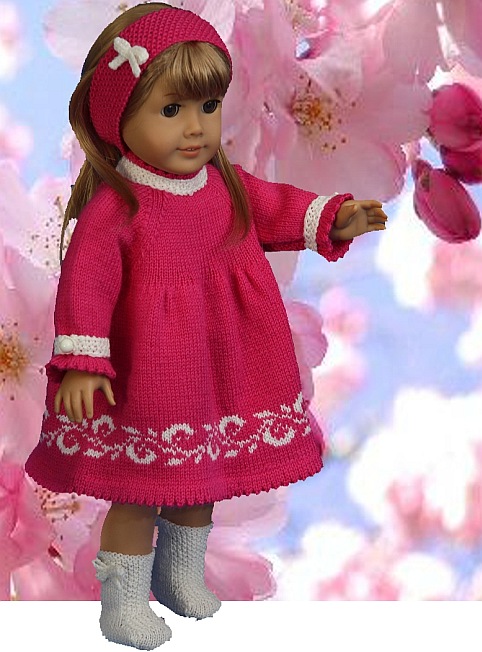 I have also knitted white bands and sewed these around the arms and around the neckband to lighten up the dress. The pant is knitted in pink. The doll's hairband is knitted in pink moss stitch.
I have also knitted a band I white and shaped it like a bow before I have sewed it to the hairband. This hairband fits the doll very well. 
She is so beautiful. Nice socks are knitted in white and a bow like the bow on the hairband is sewed along the outsides of the socks. 

I love my doll in these clothes. Now I look forward to showing her to my best friend Pia.

Madame Alexander Doll is simply great in these clothes (above to the right).
As always Målfrid's design for 18" dolls fits excellent to little Baby born (above to the left)

Regards
Målfrid
   


Tiril is The Loveliest Little Spring Flower Among Them All
Design 0075D TIRIL


     

Design 0075D TIRIL
Tiril is The Loveliest Little Spring Flower Among Them All         

18" knitting pattern for American Girl, Baby Born, Madame Alexander and other 18" dolls
Click on the image to see more images of Design 0074D SIMONE in the photo Gallery)
Maalfrid's Knitting patterns for dolls -Model 0075D TIRIL - DRESS, PANT, HAIRBAND AND SOCKS.

US $7.45





---