Beautiful Norwegian quality


doll knitting patterns



Every doll's dream website
Beautiful Norwegian high quality doll knitting patterns by
designer Målfrid Gausel, Queen of Doll knitting,
 now available on the internet.
Please enjoy knitting patterns for the most beautiful, gorgeous knitted doll clothes. The knitting patterns are designed by Målfrid Gausel. Each month the site gets over 50.000 visits and 150 000 page views, and visitors from about 150 different countries, enjoying Målfrid's amazing creations.

Get the introductory knitting pattern ANNE for free!

 
Sign up for the free Newsletter and immediately get your free downloadable knitting pattern (subscription form below). As a subscriber of our Newsletter you will get a special offer every time we publish new patterns.

In addition to all the beautiful knitting patterns (see Newsletter and pictures below), Målfrid has designed a special pattern, easy to work with, easy to knit. We want to give the knitting pattern, Anne, to all our new subscribers for free. 

To enjoy this special first edition of our Norwegian doll knitting pattern in English, write your first name and email address into the form below, click submit, then you can immediately download this wonderful model.
Our doll knitting patterns
We also offer you a few of Målfrid's other beautiful patterns, absolutely free; subscribe to the Newsletter and you will get the pattern ANNE and the other bonus patterns with the next newsletter. As a subscriber of the newsletter some of the new patterns will be offered to you at special price, up to 40% off full price. 
Målfrid creates patterns that fit 17"-18" (43-47 cm) dolls like American Girl doll and Baby born doll. The patterns fit other dolls of similar size. 

---
New patterns
Published December 2017
0184D 


J

ULIE &

J

ULIAN

Sweater, skirt, pants, hairband, shoes for Julie - Sweater, pants and shoes for Julian
Doll knitting patterns
(Fits 18" dolls like American Girl doll, Baby born and Alexander doll.) Click on the picture to view pictures 

in the Photo Gallery  $8,35








---
Published December 2017
0183D 


O

LEFINE

Sweater, pants, cap, scarf and shoes
Knitting patterns for american girl doll sweater
(Fits 18" dolls like American Girl doll, Baby born and Alexander doll.) Click on the picture to view pictures in the Photo Gallery $8,35








---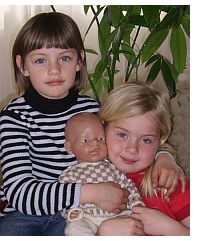 Målfrid Gausel's Doll Knitting Adventure
Målfrid, the author of these books, is inspired by her grandchildren (Kaja and Tiril to the left), and every design and creation comes from her heart.

To give you a taste of what Målfrid has accomplished, take a look at the four images below. Maalfrid, the author of five pattern books, for decades she has been a doll knitting pattern celebrity in Norway, very well known for her fantastic books featuring doll knitting patterns. You can read about her beautiful creations in the newspapers and magazines. She's a popular speaker at many events. People everywhere are talking about what she loves, designs and beautiful knitted doll clothes.

Click on each photo below and enjoy some of the beautiful creations presented in her books. The books are unfortunately only in Norwegian, the two first books are even sold out in several editions and will never be printed again. Here is the good news! Most the patterns from these books will be published on our website, one at a time.

Click on each image below and see some of the beautiful creations presented in her books (written in the Norwegian language only).
These books are written in Norwegian, however all knitting patterns at this site will be in English. The patterns are downloadable. Målfrid has many magnificent patterns still to come. She will of course ask you, our dear visitors, what you would like her to design, which type of doll clothes you would love to knit. 
New knitting book 
Here's the good news: Målfrid is going to publish an English doll knitting book in 2017. We will try to get the new book published before summer. You will get information about it with the newsletter

Sign up for our Newsletter and get free pattern Anne 
Subscribe this Newsletter and immediately you will get Målfrid's first knitting pattern for for free (downloadable). As a subscriber you will receive information about Målfrids new doll knitting patterns with big discounts

Free
knitting pattern for babies
We have a baby knitting pattern webpage.  Some of our gorgeous doll knitting patterns will be offered to you in baby sizes. All our doll knitting subscribers will get the introductory pattern MIO for free. 

Best regards
Målfrid