Looking for Knitting Patterns for Premature Babies?
Lovely Premature Baby
Knitting Patterns
Fits perfectly to a 16" - 18" (43 cm - 48 cm) premature baby
When I get question from people who are looking for premature baby knitting patterns to knit for an early baby, often they don't know what they are looking for. Usually they want to know whether the clothes I knit for the doll Baby born also is suited to knit as garments for the tiny premature child. It turns out that several people are already using my patterns to clothing for premature babies. Feedback confirms that the clothes have a good width in arms and legs, few stitches, and they are easy to get on and off ... which is very important!

Recently I visited a yarn store in my neighborhood. All over the wall hung tiny knitted "baby clothes" that were sold to premature children. When I looked closer all the clothes were knitted with my doll knitting patterns, quite a pleasant surprise. It was very nice to see that my patterns can be used to meet this need.

To make it easier for you I have picked a special collection that fit to early babies, easy to knit and quite suitable for this purpose!


Tiny Lauren in a big, big world
Donna sent me this picture, here is what she says: This is a picture of baby Lauren in the 0050D Mathea premie sweater. I made the sweater for a co-worker who recently had a premie baby in the family. This was the only sweater that fit him as he came home from the hospital weighing about 4 and a half pounds. I have to admit he is much more precious than the dolls that I usually knit for. I love your patterns"
A high five to both Donna and Lauren, and we all wish him a great future.

Tiny Lauren with his 0050D Mathea knitted in blue

Size The size of premature babies vary a lot, the chest measurement vary from 8" to 14". So you should not try to put too much on trying to perfect the size of the clothing. Tension (Gauge): 10 cm = about 30 m. Then I knit with needles No 2 1/2 . If your little premature child needs smaller or larger clothes, use some more or fewer stitches and also knit a few rounds to get shorter.
The knitting patterns on this page fit to dolls with 11" chest circumference, exactly what you need to knit cloths for preemies.The measurement of premature babies is mostly from 40 cm to 50 cm. The premature baby knitting patterns on this page are designed to fit 18" dolls, like 45 cm Baby born and 48 cm American Girl

Yarn A premature baby has very delicate skin. I mostly knit my models in thin, soft merino wool yarn. This is soft, warm and good to the little one.
If you want you can also knit garments in soft baby alpaca wool, which is even warmer. Just make sure the yarn has the same gauge as baby wool.
Sometimes premature babies are allergic to wool, if so clear of using wool mix. You can use cotton and acrylic yarn. 100% Egyptian cotton is very soft, a fantastic soft yarn for delicate skin, warm when it is cold and cool when it is warm.

Blankets Blankets is popular and very useful for premature babies. A blanket is easy to knit too, you can do it when watching TV.

Colors Pastel colors fits well to this. Of course baby pink and blue are popular, but don't forget the beautiful Peach, Cream, Lemon, Aqua, Lilac, Mint Green ... and of course White. Bright and dark colors make premature babies look frailer and should be avoided. When knitting burial garments use colors as cream or white, lilac, blue and pink are not appropriate for a stillborn baby.


Upload your pictures with its story and get 5 more patterns for free!
Upload your pictures (of Maalfrid's design) and your story about it, and we will send you five patterns for free, upload it here.
I hope this will be well received and I would appreciate to have feedback from you to help us adapting to the purpose.
A premature baby enjoying it's life is not the most common thing in the world, so please share your photos, the finished premature baby knitting pattern and your story.

With these clothes you create a warm comfortable world for the tiniest children
---
0001 LISA
Lovely knitting pattern
for Baby born 18" doll.
(Click on the picture and view more examples)

Order the doll knitting pattern for LISA
and get patterns for five beautiful units, all in one:Cardigan, Hat, Pants (long and
shorter pants)Socks and Blanket.

My lovely, little Baby doll,
LISA, dressed in beautiful clothes
knitted in white and lilac.
Buy now for knitting pattern LISA US $7,65




Add to Cart




View Cart
Lovely Premature Baby Knitting Patterns
Lovely Premature Baby Knitting Patterns
Lovely Premature Baby Knitting Patterns
0034 LINA
Baby Doll suit, Hat and Socks

Also fits other 17"-18" dolls like Chou Chou and Annebell.
(Click on the image and view more and bigger images)

Baby doll knitting pattern 0034 LINA: Beautiful Baby Doll Suit, Hat and Socks.

" Add knitting pattern 0034 LINA to Cart
US $6.95




Add to Cart


View Cart
Lovely Premature Baby Knitting Patterns
0047 RENATE (Goldtop)
Lovely doll knit pattern in bright colors.

This patterns also fits other 17"-18" dolls like Baby born and Chou Chou.
(Click on the image and view more and bigger images)

Doll knitting pattern 0047 RENATE: Cardigan, Bonnet, Baby Suit and Socks.

Add knitting pattern 0047 RENATE to Cart
Now US $7.65



Add to Cart


View Cart
Lovely Premature Baby Knitting Patterns
0050 MATHEA
Knit this cool clothes to your doll.

This patterns also fits other 17"-18" dolls like Baby born.
(Click on the image and view more and bigger images)

Doll knitting pattern 0050 MATHEA: Knit these lovely doll clothes cotton.



Add to Cart


View Cart
Upload a picture of your
premature knitting and share your story about it
Have A Great Story About
Your Premature Baby Knitting?
Do you have a great story about this? Share it!
What Other Visitors Have Said
Click below to see contributions from other visitors to this page...

---

In order to make the site more interesting and informative for you, soon we will start using this extra right column to show different content on different pages. For a while only the same content will appear on all pages.



---
View more beautiful
American Girl doll
knitting patterns
#0017 Kirsten in January
visiting the Opera house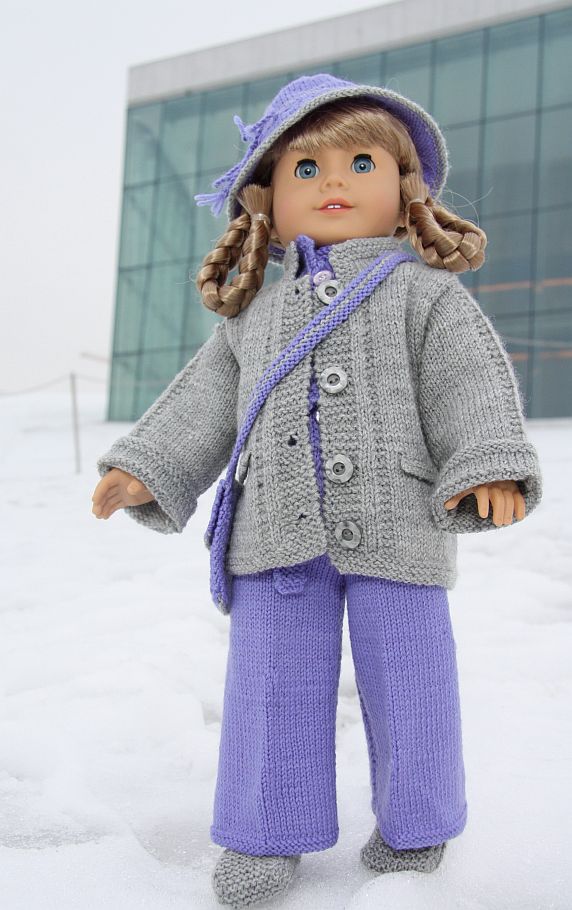 #0019 Kirsten in February
visiting Holmenkollen Ski jump




Free pattern
Subscribe the newsletter
and get
doll knitting pattern
ANNE for free.