Maalfrid Gausel's design knitting patterns for dolls clothes
Knitting lovely doll clothes for parties
(Downloable pdf for Dolls clothes knitting patterns.)
Model 0065D CARLA - DRESS, PANT, SOCKS/SHOES AND BAG

This time I wanted to knit some clothes for celebration for my doll.
I saw this beautiful pattern and thought it would be nice for a dress. I choose lilac for the dress as I am very fond of this color. I also decided to have the dress open along the front of it.
And then I designed these clothes for my dear doll!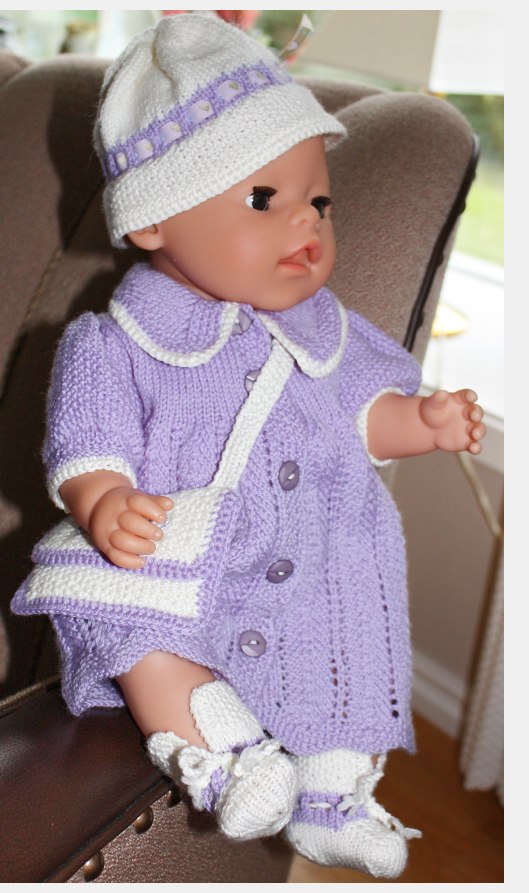 I have crocheted edges in white around the collar and around the arms. Nice lilac buttons along the front of the dress was nice too.
I also knitted a shoulder bag for my doll and at last a beautiful hat. The hat has a row of eyelets around and I have pulled a nice silk band through it with along the side of the hat.
Together with a pair of small shoes this clothes should be completed.
I liked my doll very much in these clothes, and I hope you will do so too.
At the picture to the left you can see that this pattern fits nicely to Baby Born too.


Regards Målfrid

    0065D CARLA
Knitting patterns for dolls clothes
     

0065D CARLA
Make your doll lovely in doll clothes for parties         

Knitting pattern fits 17"-18" dolls like American Girl doll and Baby Born
Click on the image to see more images of 0065D CARLA in the photo Gallery)

Knitting patterns for dolls clothes - Modell 0065D CARLA - DRESS, PANT, SOCKS/SHOES AND BAG


Add knitting pattern 0065D CARLA to Cart
US $7.75



Add to Cart


View Cart