American Girl Doll Patterns: A lovely Visiting Dress for Kirsten
Doll lovers take great care to get their doll "dressed for the occasion".
0037 Kirsten's lovely Visiting Dress (tunic/dress, short pant, hat, shoes/socks and a little bag) is ideally suited for visiting good friends ...
... it is also well suited for other occasions; knit this suit to your doll and
she will get an amazing
walking dress, a travelling dress, an evening dress, a dinner dress, an afternoon dress, a "Toalette de Reception" dress ... and in fact it suit very well as a house dress.
Wow.
These doll clothes fit to other 18" dolls as well, such as Baby Born.
It's easy and fast to knit beautiful clothes to the doll. Then you put your doll at visible place in the house. You get attention and you create joy. Perhaps you even motivate others to want to knit.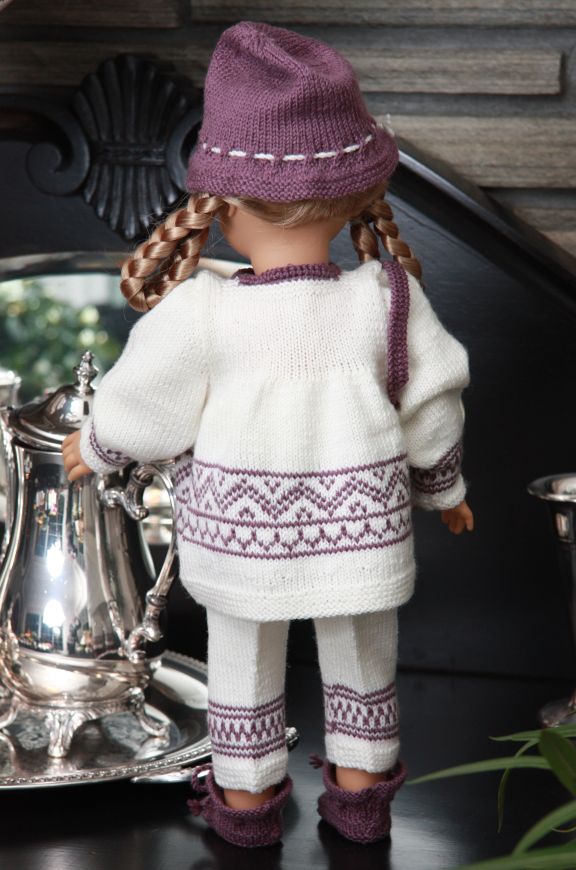 American girl doll Kirsten
want to participate in all kinds of activites, especially in the delightful knitted clothing.
American Girl doll Kirsten
dressed in a lovely visiting dress - model 0037 KIRSTEN
---

---