American Girl Doll Kirsten;
- visiting Norway and
the Norwegian opera.
January 2009 doll knitting pattern for Amercian girl doll KIRSTEN;
PARTY SUIT, JACKET, HAT, HAIR BAND, SHOES and BAG.

This doll knitting pattern also fit other 17"-18" sized dolls

American Girl Doll is the American "national doll." During the last 25 years about fifteen million American dolls have got a home with American children. Kirsten is one of the dolls in the American doll family, read more about the story of Kirsten here.You can also read more about American Girl Doll here at her homepage.

Maulfrid is now designing a collection of twelve special dress for Kirsten, one for each month. Here is the January clothes. The December attire was in time for last Xmas.

At first we thought to show Kirsten in connection to sights close to the hart of Norway like Telemark and other places like this. Anyway, what was more natural than taking Kirsten to a visit at the new Norwegian Opera. This website is visited of people from more than fifty countries, and we are glad to show that Norway is more than the famous Norwegian wilderness.

Do you have a suggestion about typical places in Norway you want Kirsten to visit? We will be glad to have your ideas about it. Please, write your suggestion here.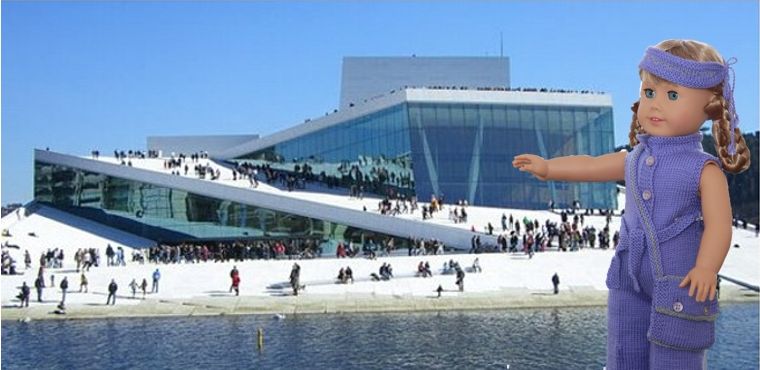 American Girl Doll
Kirsten