Unveiling the Beauty of Dolls Knitting Patterns
A world of fashion possibilities awaits
A journey into the world of dolls knitting patterns

Let's embark on a journey into the world of dolls knitting patterns, where creativity and craft come together to dress your beloved doll, Serina, in style. Among the stitches and threads, a world of fashion possibilities awaits.

---

Model 0243D Serina and Stina -
Sweater, pants, cap, and shoes for Serina
Romper, baby blouse, cap, and socks for Stina


(This pattern fits 17" - 18" dolls like American Girl doll, Baby born (Zapf), Hannah (Götz) and Alexander doll)

---

Crafting Elegance with the Sweater Enchantment




Discover the joy of knitting as you dive into the art of stocking stitches. The sweater you'll create for Serina is more than just clothing; it's an enchanting piece that will warm her heart. The delicate yellow pattern adorning the wrists and neckline adds a touch of brilliance to your creation, reflecting your own unique spirit.

Click here

---

---
This pattern is also knitted around the neck.

The sweater is buttoned back.
---
Playful Whimsy in Pants and Overalls

Let your hands work their magic as you bring to life super pants in vibrant yellow for Serina. With double moss stitches around the ankles and charming front squares pretending to be pockets, you're weaving a tale of playful whimsy. The overalls, designed with thoughtful ease in mind, evoke childhood innocence and joy, accompanied by the gentle touch of wooden buttons.

Watch in awe as the pants and sweater harmoniously blend, creating an ensemble that sings with elegance. Each stitch is a note in a symphony of knitting, a testament to your dedication and passion. Together, they compose an outfit that resonates with Serina's spirit.

With this sweater, the doll has got super pants knitted in yellow. The pants have dbl moss sts knitted around the ankles. Small squares are knitted front to pretend pockets. The top is knitted like an overall with a yoke for buttoning. The edges are knitted in dbl moss sts, as are the suspenders—buttoned front with small buttons in wood.
These pants, together with this beautiful sweater, work out perfectly here.
---
Graceful Crowning Touch




Imagine a white cap that perfectly complements the sweater's pattern. With delicate crocheted bows and a charming crochet band that forms a flower, this cap crowns your creation with elegance. It's not just an accessory; it's a symbol of your attention to detail and a finishing touch that speaks volumes.

Stepping into Elegance with Ankle Strap Shoes

Elegance finds its way to your doll's feet with ankle strap shoes crafted in garter stitches. These shoes, adorned with small wooden buttons, embrace the beauty of simplicity, and secure your doll's steps on a journey of imagination and play.

Small ankle strap shoes knitted in garter sts ...
---
Delight in Baby Stina's Blouse



Expand your knitting canvas to embrace baby Stina with a delightful baby blouse. Buttoned through loops of buttonhole stitches, the blouse exudes charm and comfort. With its blue/grey pattern, the collar showcases your creative flair, proving that even small details can make a big impact.
---
Romping into Joy with the Perfect Romper




A romper in shades of grey and blue awaits, ready to partner with the baby blouse. The double moss stitches along the front infuse playfulness, while the buttons on the shoulders bring a sense of ease. Dressing your doll in this ensemble isn't just about clothes—it's about celebrating the innocence and happiness of childhood
---
Adding Charms to the Ensemble




Complete the ensemble with a cute white bonnet, adorned with a charming pattern. This accessory isn't merely an add-on; it's a testament to your love for detail and a final touch that elevates your creation.

Step into the Realm of Imagination


With these tied baby socks, you're not just crafting garments but cultivating a world of wonder and imagination.  In every loop, you're embracing the magic within the art of knitting, one stitch at a time.




---
Step into the Realm of Imagination

As this enchanting journey concludes, you're left not just with two outfits, but with stories woven into every stitch. These dolls knitting patterns are a reminder that your craft is more than just garments—it's a way to create memories that will be cherished for years to come.
---
Embrace the Magic Within Every Stitch




With each stitch, you're weaving a tapestry of imagination and creativity. The world of dolls knitting patterns invites you to explore, innovate, and discover the magic that lies within every thread.

Stitching Connections: Bonding Through Knitting




At its core, dolls knitting patterns foster connections. Whether it's the bond you share with your craft, the ties between generations, or the relationship with the dolls that wear your creations, knitting is a bridge that unites hearts and souls.

Weaving Dreams with Dolls Knitting Patterns




In the heart of every strand of yarn lies the power to weave dreams. As your knitting needles dance, remember that you're crafting more than just clothing; you're crafting stories that connect generations.

Celebrating Your Creative Legacy




Every stitch is a testament to your legacy. The dolls you dress today may become treasured heirlooms for generations to come. As you knit, remember that your creativity can inspire and leave a lasting impact.
From Thread to Tale: Unveiling Wonder



Pause and marvel at the journey—from raw materials to a world of wonder. You've transformed the ordinary into the extraordinary with your hands as the weavers. Each doll and outfit is a celebration of the enchantment you bring to life.
Wishing you a happy knitting
The Doll Knitting Pattern Team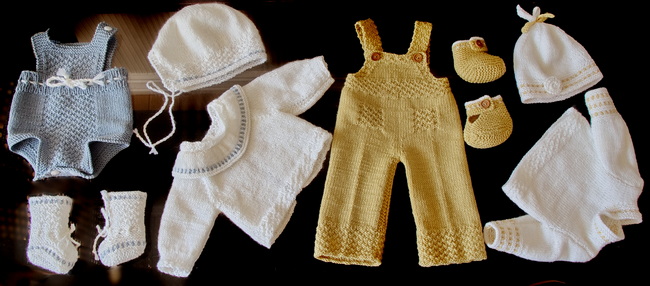 Model 0243D Serina and Stina - Sweater, pants, cap, and shoes for Serina Romper, baby blouse, cap, and socks for Stina
243D




Serina and Stina




Sweater, pants, cap, and shoes for Serina
Romper, baby blouse, cap, and socks for Stina
Unveiling the Beauty of Dolls Knitting Patterns
Fits 18" dolls like American Girl doll, Baby born and Alexander doll) Click on the picture to view pictures in the Photo Gallery $8,35

243D Serina and Stina









---
What do you think about the doll knitting pattern above. Leave your comment to me in the box below.  

                                                                                              Målfrid

PS: Share lovely things              ----------------------->
I hope you will love this outfit as much as I do and I will appreciate very much to see you sharing this page on Facebook or Twitter. Do you like some of the lovely pictures, click a PinIt button and add them to your Pinterest Album      


---

 I also welcome you to become friend on my new Facebook page. On Facebook, I will show more about the ideas and patterns that come in the future.       Regards Målfrid