Norwegian inspired doll knitting pattern
Amazing Outfit with Nordic Reindeer Motif for your doll
Modell 0072D OLA - SWEATER, CAP, PANT AND SOCKS
(Pdf knitting pattern to knit doll clothes for 18 inch dolls.)

I know that several of you like to knit clothes with animal motifs. A while ago
                                     Cheryl from US suggested a moose motif, but
                                           immediately I could not imagine it would possible.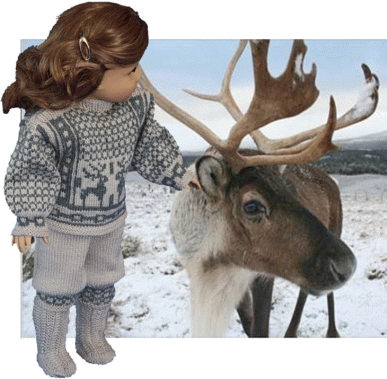 The challenge is to transform that big animal with their
                    massive antlers to get small enough to fit to a doll. However, when folks did it as Reindeer Petroglyphs in stone 4000 thousand years ago (see below, those images were rather an inspiration to me, I could do that with yarn too. I continued thinking of it and one day I could imagine a design I wanted to try. Finally I made it and here you have the result which I really hope you will like.
In fact Norway is most known for our reindeer; even Santa Claus let his reindeers playing around in the Norwegian highlands until next job December 25th … so, I ended up with a reindeer motif, I believe this become a typical model from the North!


Anyway, I think it was perfect to my lovely doll Ola. To go together with the sweater I decided to create socks, a knee pant and a warm cap as accessories!

I hope you will like this design too and that you want to knit it!
Needles and yarn are waiting so it is just to start! It is simple and fun to knit, in a short while you may enjoy the result.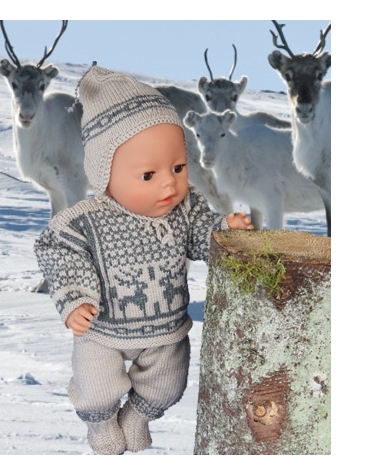 (Above) American Girl Rebecca is studying Reindeer Petroglyphs in the Alta Fjord, near the Arctic Circle. Thousands of petroglyphs bears the traces of a settlement dating from c. 4200 to 500 B.C. She loves these old Reindeer Petroglyphs quite similar to the motif on her sweater.

Baby Born, little Ole, enjoys lovely warm clothes in the sunny, Nordic Winterland. And those Reindeers are quite amazed, never seen something cute like that.

I hope you will enjoy knitting the doll clothes with the reindeer motif!

Regards
Målfrid
   
Amazing Outfit with Nordic Reindeer Motif for your doll-
Design 0072D OLA
     

0072D OLA

- Design 0072D OLA -
SWEATER, CAP, PANT AND SOCKS

Amazing Outfit with Nordic Reindeer Motif for your doll         
Knitting pattern fits 17"-18" dolls like American Girl doll and Baby Born
Click on the image to see more images of
0072D OLA in the photo Gallery
US $7.65