So simple … so adorable



… now your doll is dressed for any opportunity

Modell 0070D ROSALIN -DRESS, PANT, SHOES, HAIR BAND, HANDBAG.
This time I decided to knit a lovely dress with some accessories. Colors knitted in pink together with grey has turned out to be a beautiful and warm dress for the doll, Rosalin.

After knitting the dress I thought that a hairband in these colors would do. I knitted a little pattern along the center of the hairband like the stripes in pink along on the dress and I liked this.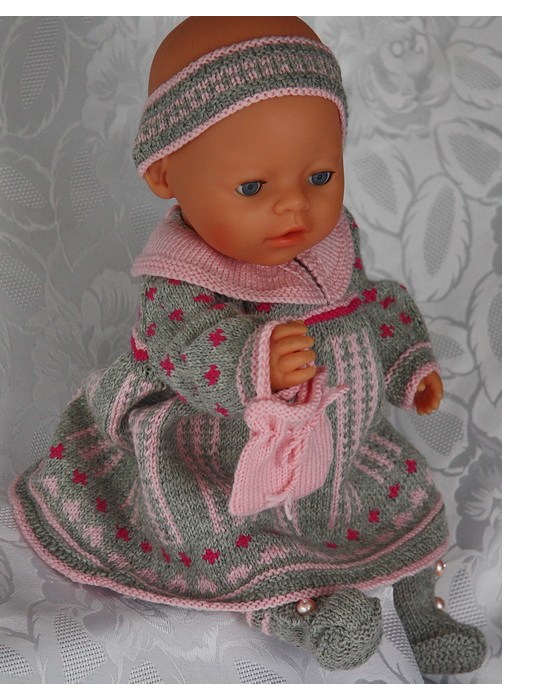 I also knitted a pair of shoes in grey. Together with pink stripes and pearl buttons along the front the shoes were well suited together with these clothes. The collar and the handbag knitted in a light pink collar were nice too, so now the doll Rosalin is dressed for any opportunity.

... I hope you too think the doll is well-dressed and nice in these clothes.

Baby born, always great in these clothes (more pictures below) ...

Regards Målfrid
---

So simple … so adorable … now your doll is dressed for any opportunity
Design 0070D ROSALIN


Design 0070D ROSALIN
So simple … so adorable … now your doll is dressed for any opportunity

18" knitting pattern for American Girl doll and Baby Born
Click on the image to see more images of Design 0070D ROSALIN in the photo Gallery)

Knitting patterns for dolls clothes - Design 0070D ROSALIN - DRESS, PANT, SHOES, HAIR BAND and HAND BAG
US $7.75




---