Kirsten celebrates midsummer ..

...in her bright and delightful
"forget-me-not" summer dress
Målfrid Gausel design knitting pattern for American Girl Doll
0027 model KIRSTEN: DRESS, PANTS, HEADSCARF, SOCKS, and SWEATER
(This pattern also fits other 17"-18" dolls)
When the evenings get bright ... and some places the nights too...

... the time has come to dress in light, delightful summer clothes. And what fits better on a midsummer evening than Malfrid's "forget-me-not" doll dress, a knitting doll clothes design specifically intended for American Girl Kirsten, still you may very well use it for other 18 "size dolls.

This is the seventh design in a collection of twelve knitting patterns for doll clothes to Kirsten. Here are the six costumes that are already in place.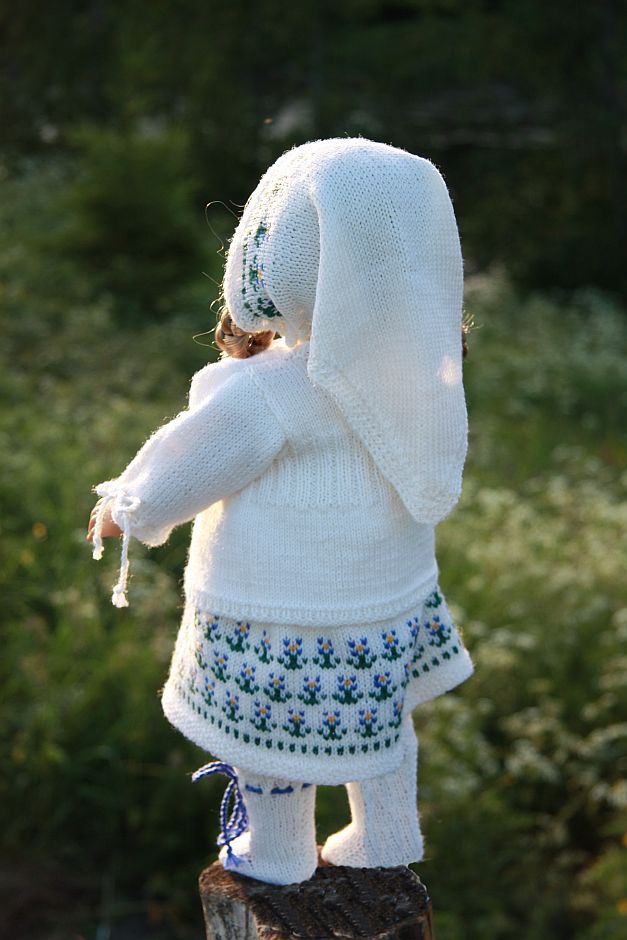 It is about to find a good place to stand ... ... and not come too close to the fire.
---
      American Girl Doll
KIRSTEN in her delightful summer dress      
0027 KIRSTEN
"..in her bright and delightful
"forget-me-not" summer dress         

Also fit other 17"-18" dolls like Baby born.
(Click on the image and view more and bigger images)

Doll knitting pattern 0027 KIRSTEN: DRESS, PANTS, HEADSCARF, SOCKS, and SWEATER


US $7,95





---