My doll Annabelle "Little Red Riding Hood"
in her new clothes knitted in pink and white
Doll clothes knitting pattern for: Skirt, Blouse, Pant, Socks and Headscarf. Suitable for 17"-18" dolls like Annabelle, Baby born and Chou Chou

For many years mams and grandmas had the pleasure, together with their children or grandchildren, to sit together and turn the leaves in Målfrids books and talk about the puppets and the fine clothes, and which of them they would like to knit. One almost wants to knit everything.

The same can you do with your child in front of the PC screen. What better can be put on a computer screen than Malfrid's beautiful knitting patterns for doll clothes. If you prefer something "physical to hold on to", you can, using a color printer, print out the patterns and images with high color quality. Put them in a ring leaf book, and then you have a book to keep and move in.

So we add the photos that you and your child might like to talk about. Children are creative and easily create their own history, their own adventure.

You know the fairytale about Little Red Riding Hood and wolf. Annabelle prefers a story about Little Red Riding Hood and the fox. Children love to be creative, with some help from you they easily make their own little story on Little Red Riding Hood and the beautiful fox.
This Little Red Riding Hood skirt knitted in pink and white and is tailored just for the trip on a fox back.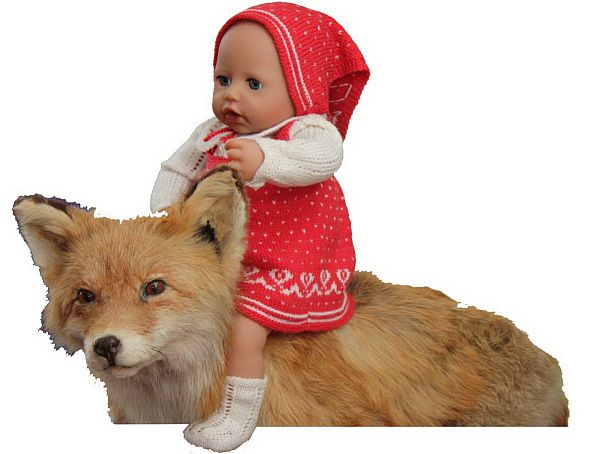 Zapf Creations
Baby
born      
      Zapf Creations
Annabelle      
      Zapf Creations
Chou
Chou      
0020 ANNABELLE
"Little Red Riding Hood" in her new clothes knitted in pink and white         

Also fit other 17"-18" dolls like Baby born.
(Click on the image and view more and bigger images)

Doll knitting pattern 0020 ANNABELLE: Skirt, Blouse, Pant, Socks and Headscarf


US $7.65