Easter is here!
Olivia so cute in yellow and white,
- also nice to little Oliver

Baby doll knitting pattern:
Lovely BABYSUIT, HAT for a girl and a boy, SOCKS
Fit 17"-18" dolls like Baby Annabell, Baby born and Chou Chou
This time it was turn for the next American Girl Kirsten outfit. Then I got an email from Målfrid with this: "I am incredibly happy with baby doll clothes! In the recent past it has been many other projects, all of them terrific, - but when it comes to baby clothes for dolls I feel "completely at home."
i>
This cute "Easter chicken" came attached to her email.

It is not only Målfrid that is enthusiastic for baby clothes for dolls. Who does not fall for little Olivia (or Oliver) below here?

So, we make a slight twist in our plan and let in the Olivia baby doll knitting pattern. Still, it fits well with this yellow Easter outfit right now. Of course, it can very well be used all year.

So now you know what to do in the next few days, especially with harsh weather during Easter. Find the knitting sticks, particularly if you were one of them who think Olivia is a suitable alternative to reading books.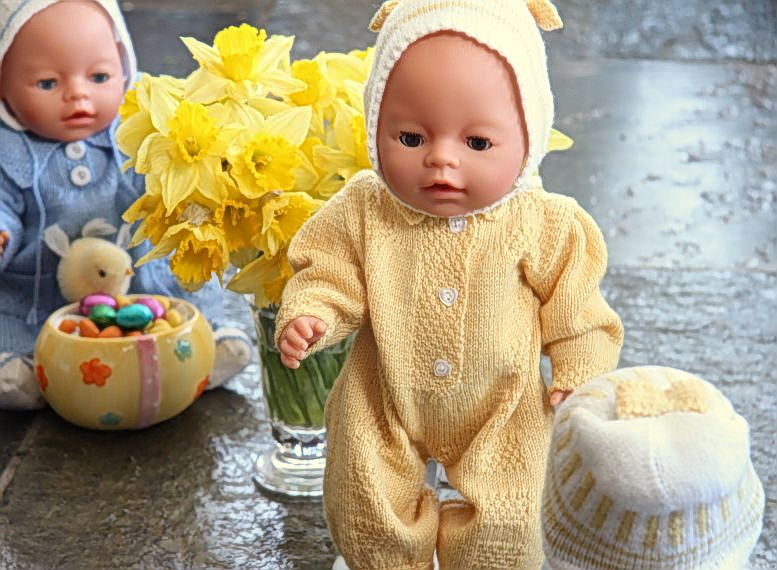 ---
      Zapf Creations
Baby
born      
      Beautiful
baby doll gul
Easter special      
      Zapf Creations
Baby
Annabell      
0021 OLIVIA and OLIVER
"Easter is here!" Olivia so cute in yellow and white,
- also nice to little Oliver         

Also fit other 17"-18" dolls like Baby born.
(Click on the image and view more and bigger images)

Doll knitting pattern 0021 OLIVIA and OLIVER:
Skirt, Blouse, Pant, Socks and Headscarf


Add knitting pattern 0021 OLIVIA to Cart US $7.65


Add to Cart