Beautiful suit in blue
with white snow crystals...

... just perfect for little elves
in the blue mountains of winterland
(Maalfrid's design knitting patterns for doll clothes.)
Model 0067D MAREN - SUIT, HAT, SCARF and SOCKS,

This time I have decided to knit a suit in blue and white. When I was very young I had a lovely sweater knitted in snow crystals. That sweater was my favorite sweater for very long, and knitted snow crystals have always been one of my favorites. Blue and with is lovely together I think.

This blue color remains me of a popular Norwegian TV series. A story about the little princess ... to save her fathers life she had to challenge what frightened her most. A magic Christmas story about courage, friendship, gnoms and elves; a typical Norwegian fairytale movie for the whole family. The kids love this grogram, and when December arrives they love watching these friendly elves and gnoms at TV ... many little girls will enjoy having their nice blue and white dressed doll with them!

Please enjoy this trailer; Christmas Eve in the Blue Mountains of Winterland
... It starts like this;"Once upon a time, in a mountain far, far away, there lived a folk called blue gnoms ... and there lived a little princess too who was afraid of almost everything ..."


Here comes the loveliest elf among them all. Pretty perfect in blue & white.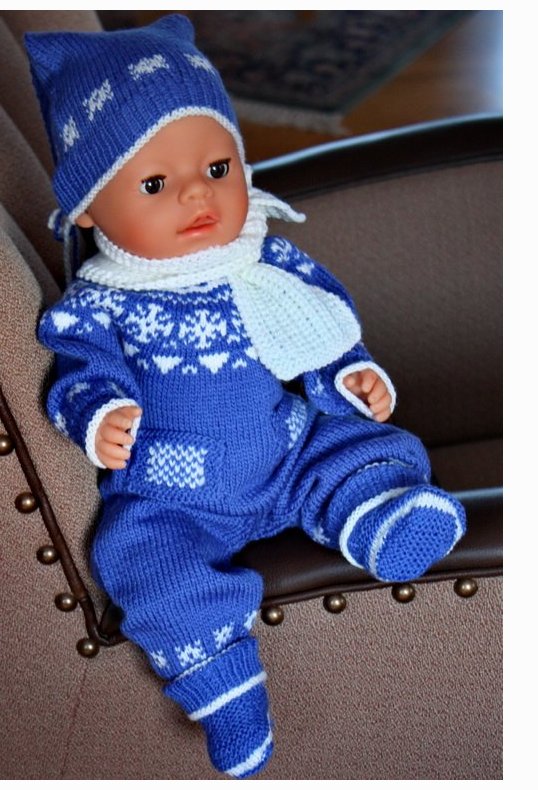 The doll clothes knitted in blue and white look clean and delicate, so your doll should be beautiful dressed in these clothes. A fairy's hat is nice to go with the suit. And a white and warm scarf in patent knit will be nice too.
At last the doll get a pair of warm socks, and then she is ready for Christmas either you travel, celebrate at your cabin, or just stay home in a good atmosphere together with family and friends! Whatever you do your doll is dressed in her most beautiful clothes!

This lovely blue suit with snow flakes fits perfect to Baby Born

Regard Målfrid


---

If you liked the first video, you might like this one too,



Knitting patterns for doll clothes in blue and white-
Design 0067D MAREN


<! -- Stop-Next-pattern -->






<! ----start English version--Design 0067D MAREN --->
0067D MAREN
Knitting patterns for doll clothes

Knitting pattern fits 17"-18" dolls like American Girl doll and Baby Born
Click on the image to see more images of 0067D MAREN in the photo Gallery)

Knitting patterns for dolls clothes - Modell 0067D MAREN - SUIT, HAT, SCARF and SOCKS

US $7.75





<! --- stop - English version Design 0067D MAREN--->
<! -- Start of Share with at friend -->