Lovely clothes for little LASSE in blue and brown, - knitted in pink it will be excellent for LOTTE as well 
Doll clothes knitting pattern for: Suit, hat, socks, gloves and scarf.
Suitable for 17"-18" dolls like Baby born and Chou Chou.
A Norwegian saying applies to these little kids; There's no such thing as harsh weather, just bad clothing. These lovely clothes and accessories, for outdoor use, knitted in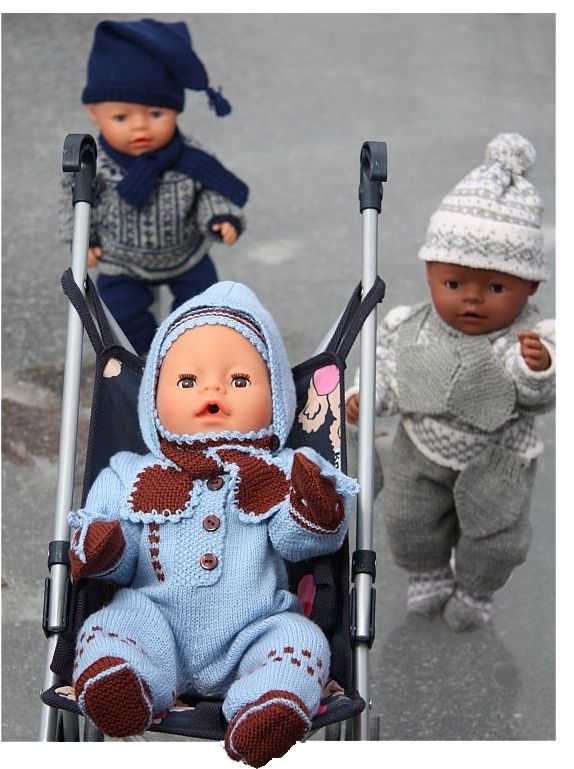 Dale Baby Wool is just the right thing for LASSE - especially when you are the smallest and have to sit in baby carriage.

Now you can knit this lovely suit to your doll; suitable for play and outdoor life; at home and in the kindergarten.












LASSE love to be dressed for outdoor winter activities in warm winter clothes.


      Zapf Creations
Baby
born      
      Zapf Creations
Chou
Chou      
      Molly P
Morgan      
<! ----start English version--0015 LASSE - LOTTE --->
0015 LOTTE and LASSE
Lovely clothes for little LASSE in blue and brown, -
knitted in pink it will be excellent for LOTTE as well         

Doll knitting pattern for
17"-18" dolls, like Baby born, Chou Chou, Molly P and American girl doll.
(Click on the image and view more and bigger images)

Doll knitting pattern LASSE/LOTTE: SUIT, HAT,
SOCKS, GLOVES AND SCARF

US $7.65