Knitting doll clothes for easter
With Easter comes yellow daffodils - and perhaps a yellow butterfly. Here is also a lovely yellow baby set you can knit and create extra Easter joy for yourself and for others
Model 0057 HANNA - BABY JACKET, BONNET, SOCKS and PANT
(Pdf knitting pattern to knit doll clothes for all 18 inch dolls like Baby born, Chou Chou and baby Annabell.)
The daffodil is one of the important Easter symbols. And spring's first Butterfly gives a special joy. Now you can also enjoy to knit this lovely yellow baby set for Easter. You hardly find a more adorable baby Easter symbol than HANNE, especially designed by Maalfrid as this year's Easter flower.
                         
Small doll clothes in yellow for your doll
Model 0057 HANNA     
Fit 18" dolls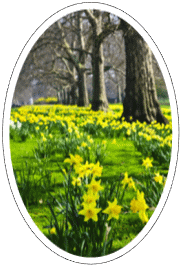 DAFFODILS

I wandered lonely as a cloud
That floats on high o'er vales and hills,
When all at once I saw a crowd,
A host, of golden daffodils;
Beside the lake, beneath the trees,
Fluttering and dancing in the breeze.


Continuous as the stars that shine
And twinkle on the milky way,
They stretched in never-ending line
Along the margin of a bay:
Ten thousand saw I at a glance,
Tossing their heads in sprightly dance.


The waves beside them danced, but they
Out-did the sparkling leaves in glee;
A poet could not be but gay,
In such a jocund company!
I gazed—and gazed—but little thought
What wealth the show to me had brought:


For oft, when on my couch I lie
In vacant or in pensive mood,
They flash upon that inward eye
Which is the bliss of solitude;
And then my heart with pleasure fills,
And dances with the daffodils.


by William Wordsworth
---
0057 HANNA
Small doll clothes in yellow for your doll         

Knitting pattern fits 17"-18" dolls like Baby Born og Chou Chou
Click on the image to see more images of 0056 MIE in the photo Gallery)

Knitting pattern 0057 HANNA: BABY JACKET, BONNET, PANT and SOCKS
Knitted in Lanett from Sandnes yarn/ Dale Baby Wool

Add knitting pattern 0057 HANNA to Cart
US $7.65



Add to Cart


View Cart
---