One Piece Bodysuit for your Doll
Warm and cozy hooded suit. Knitted in Baby Wool
Model 0055 INGERLISE - ONE PIECE SUIT: ONE PIECE SUIT, HAT, SOCKS AND SCARF.
(Pdf knitting pattern to knit doll clothes for all 18 inch dolls like Baby born, Chou Chou and baby Annabell.)

Do you know the one piece suit?
My grandchildren call it "my one-piece" suit!
I think it must have been a couple of years since me granddaughter visited my dressed in her new One-piece suit! I asked her if she still was dressed in her night suit? Then she looked at me with indulgent resignation! I just had to understand that this lovely dress she should wear for relax and leisure! It should be wide and long buttoned and ...

...good to wear! Now I have seen that shops are full of these suits, and they are in a lot of colors and patterns. One day my girls asked me to knit one for the dolls and I thought Yes, WHY NOT?"

And here it is! Not bad I think? I hope you will like it and enjoy knitting it!
Regard Maalfrid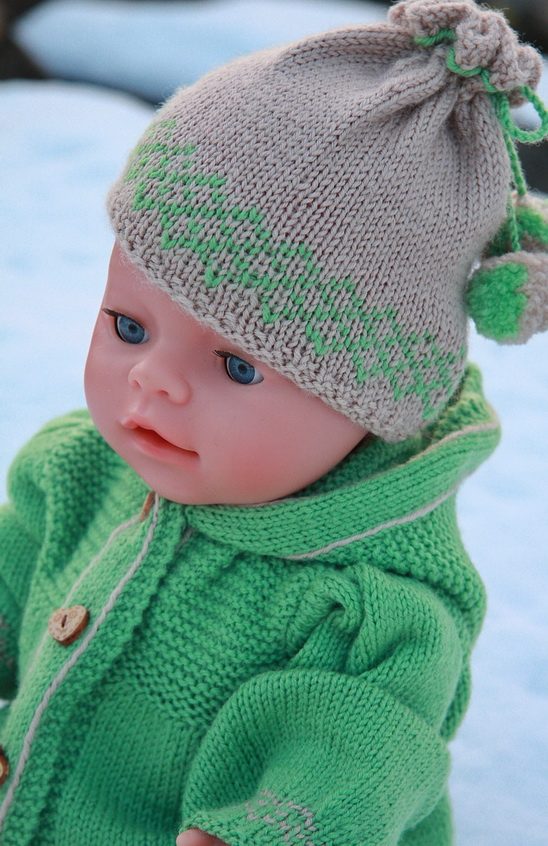 Knit One Piece Clothing for your doll
One piece outfit for doll makes dressing so simple. The classic one piece is cute in white or pastel colors, today we enjoy all kind of bright colors. This is a great design with a hood to keep the doll warm head to toe, it even helps as a windbreaker on windy days, just perfect for outside.
It is time to knit doll clothes.
Modell 0055 INGERLISE

One piece

0055 INGERLISE
One Piece Bodysuit for your Doll

Knitting pattern fits 17"-18" dolls like Baby Born og Chou Chou
Click on the image to see more images of 0053 ANDERS in the photo Gallery)

Knitting pattern 0055 INGERLISE: ONE PIECE SUIT, HAT, SOCKS AND SCARF
Knitted in Lanett from Sandnes yarn/ Dale Baby Wool

US $7.65