Maalfrid's design knitting patterns for
dolls clothes
NIRI and VILJA visiting the harbor in their new lovely blue
Seaman Dress
(Pdf knitting patterns for dolls clothes.) Modell 0063D NIRI & VILJA - SUIT WITH SAIL MAN COLLAR, WHITE SOCKS, HAT, DRESS WITH A SEAMAN COLLAR, PANT, HAIR BAND

Little Sanna's dolls, Niri and Vilja have lovely new knitted doll clothes for summer holidays by the sea.
Sanna loves her dolls more than anything else. This year her family spent holiday at their cabin close to the seaside, and of course Sanna brought with her dolls! She enjoyed sunny days, looking for shells and just have lazy days together with mum, dad, sister and her dolls. Most of all she liked to visit the harbor and watch the sail boats.
Grandma has knitted beautiful new doll clothes for her dolls in soft, thin cotton yarn in blue and white, and Sanna is so happy. The clothes is seaman inspired doll clothes. Niri with a lovely suit and Vilja with a dress. She has also knitted a lot of accessories for the dolls, like hats, socks and pants. None else have dolls more lovely than herself, Sanna thinks! When they are in the boat Sanna always brings her dolls, and dressed in these nice seaman inspired doll clothes they are perfectly dressed for the life in a boat.

Regards Maalfrid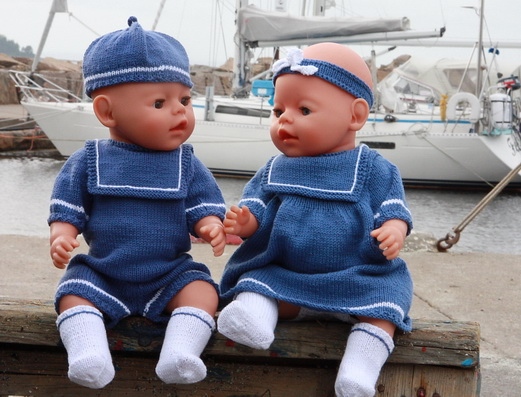 Niri and Vilja enjoy visiting the sailboat harbor wearing their lovely new clothes.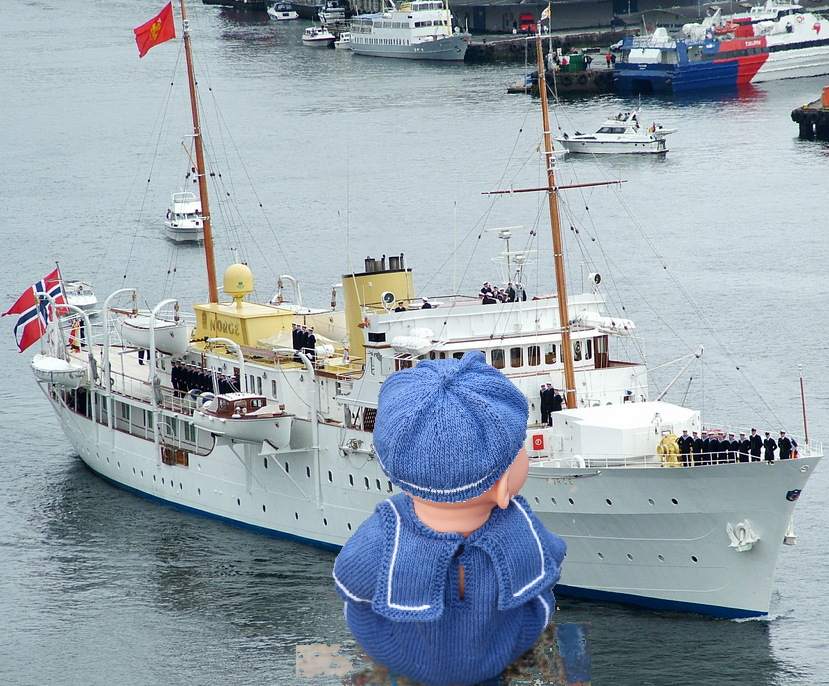 Niri watching the Royal Yacht of the King of Norway, HNoMY Norge. He thinks that the sailors have almost as nice dress as he himself. The ship's name Norge is Norwegian for Norway.


Maalfrid's design knitting patterns for dolls clothes -
Design 0063D NIRI & VILJA



0063D NIRI & VILJA
Maalfrid's design knitting patterns for dolls clothes

Knitting pattern fits 17"-18" dolls like American Girl doll and Baby Born
Click on the image to see more images of 0063D NIRI & VILJA in the photo Gallery)

Knitting dolls clothes - Modell 0063D NIRI & VILJA - SUIT WITH SAIL MAN COLLAR, WHITE SOCKS, HAT, DRESS WITH A SEAMAN COLLAR, PANT, HAIR BAND


Add knitting pattern 0063D NIRI & VILJA to Cart
US $7.85



Add to Cart


View Cart