Het meest modebewuste poppen breipatroon van het jaar?

 
Prachtige kleding voor Lilly in paars en wit

Model 0011D LILLY - Rokje en Vestje, Truitje, Sokjes en Muts
(Dit patroon past voor poppen zoals American Girl doll, Baby born en Alexander doll 43 tot 46 cm)
---
Lang geleden kende ik een klein meisje dat altijd de mooiste kleding droeg. Haar moeder ...
... had a travelling brother who loved to buy this little girl many lovely clothes. 
Inspired of the memories ... 
... of this little girl and how nice she looked I have now designed these clothes for my little doll Lilly! Look at her! Isn't she pretty? I hope you too ...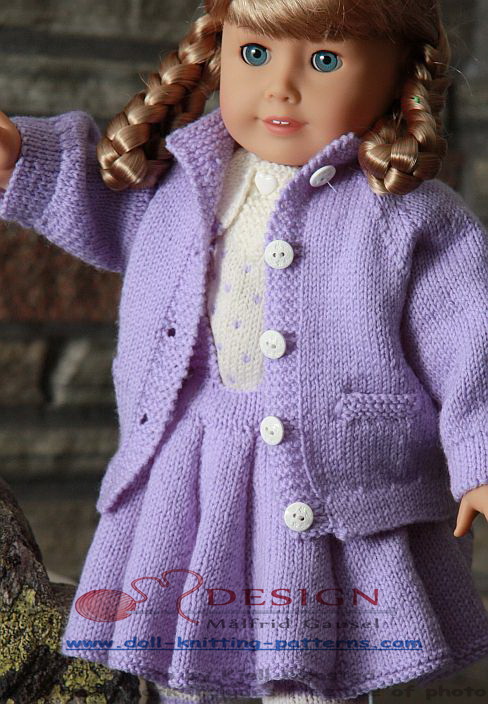 ... will like these clothes and have a good time knitting them! 
Målfrid 
Velkommen til å bli venn på Facebook siden min. På Facebook vil jeg vise mer om hvilke ideer og mønstre som kommer fremover. 

---

Meest modebewuste poppen breipatroon
0011D LILLY - Rokje en Vestje, Truitje, Sokjes en Muts

---
---
0011D LILLY 
Rokje en Vestje, Truitje, Sokjes en Muts Meest modebewuste poppen breipatroon (Past voor poppen van 40 tot 48 cm zoals American Girl doll, Baby born en Alexander doll.) Klik op de foto om meer foto's te zien in de fotogalerij  $8,15







---
---
PS, Deel mooie dingen-
Ik hoop dat U dit setje net zo mooi vindt als ik en ik zou het erg op prijs stellen als U deze pagina zou willen delen op Facebook of Twitter. Als U van sommige van de mooie foto's houdt, klik dan op de Pinit knop en zet de foto's bij in Uw Pinterest album.                                                            
Groetjes Målfrid
---